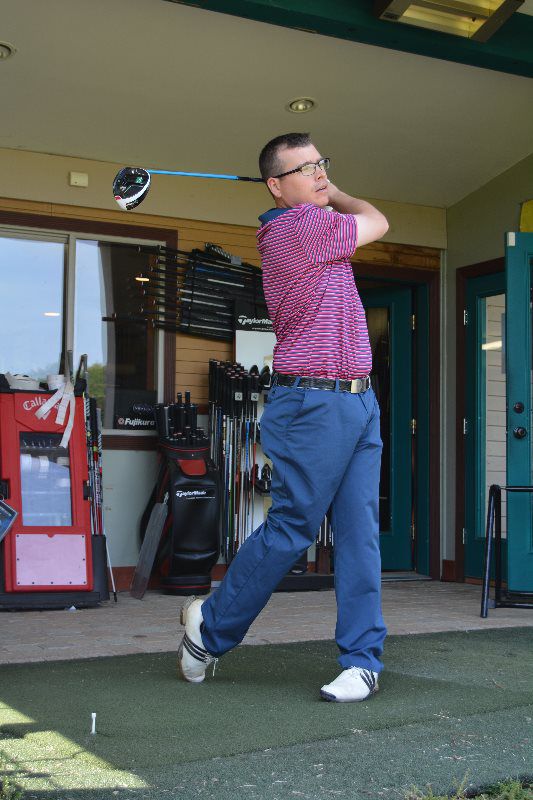 Scott Pollock is our PGA Class A Head Golf Professional. Scott has spent the last 20 years learning from the areas best instructors and also from several Top 100 Teachers in America. Scott uses the Flightscope X3 launch monitor, Swing Catalyst Balance Plate, 4D Motion 3D system, FocusBand, Blast Motion, and high-speed cameras so his students can understand their swings and ball flights better. He works with players of all abilities, from local golf professionals to beginners. Scott has began new coaching programs that start out on the course to learn your game and create an individualized improvement plan to accomplish your golfing goals. He then personalizes your purposeful practice routine and uses this system to accelerate your golfing goal.
Scott has started playing more competitive golf having qualified and played in several state opens, finished 3rd Tristate PGA Assistant and Apprentice Tournament Long Vue Club, T-2 Tristate PGA Assistant and Apprentice Tournament at Montour Heights Country Club. He hopes to play more tournaments in the future. He is a Swing Catalyst Level 1 and 2 certified instructor, Boditrak Golf Ground Mechanics Certified, Forces and Motion Workshop, and Scott Cowx Certified Level 1 and 2. He recently passed Penn State University's Biomechanics of Golf class in April. Scott is married to his wife Jessica and they have two children. Scott is an avid cyclist who enjoys ultra distance bikepacking races. He finished second in the 2023 TransVA bikepacking race. 
I played 18 holes Sunday at Cedarbrook (Red Course – blue tees) and shot 70! I hit 15 greens, 8 fairways, and had 32 putts. I had 3 birdies and 2 bogeys. My longest birdie putt was around 6 feet. The key to the round was how good the bad shots were – missing my target but still on the green. My tee shots were a high fade – which I stayed with since I was keeping out of trouble. Thank you again for all of your help!!! I appreciate the extra time you spent with me on each lessen and will highly recommend your services.
Just wanted to say thanks. Shot 42. BUT…. Driver was really good with slight draw and more distance. Missed 1 fairway because I tried to cut a dogleg and didn't catch it flush. All 3 wedges made an appearance and were so much better. Distance control needs work, and my misses were slightly right of target. Need to play/practice to dial in the yardages and tweak my alignment. There is hope. Thanks for getting me back on track.
I went out on the course today and put into play what we worked on. I haven't hit the ball that solid in a long time. Playing from the fairway seems to make the game easier. I only hit one moon ball right but think I know why and didn't do it again for the rest of the day. Irons were solid too but of course, my putting sucked. I look forward to our next lesson. I'll be booking it soon. Have a great holiday weekend and thank you!
Scott is an excellent instructor. He gets right to the point and diagnoses your problem and fixes it immediately for instant results. It's nice to see him doing this not only with updated technology but also with first-hand knowledge. I recommend taking lessons from Scott whether you're a beginner or advanced for all parts of your golf game